Conversation Exchange Programme
Improve your foreign languages thanks to the CAGI network
Take advantage of Geneva's cultural diversity and the many nationalities present to practice a language and improve your oral expression in any language in exchange for your own.
Based on the principle of exchange, this programme is free and is intended as a complement and not an alternative to language courses given by schools.
The Conversation Exchange Programme is :
The Conversation Exchange Programme is open to everyone, internationals and local residents (except children).
An intermediate level of proficiency in the conversation to be improved is required. No beginner registrations will be accepted.
Upon receipt, a Programme coordinator will contact you by phone/email to suggest a conversation partner.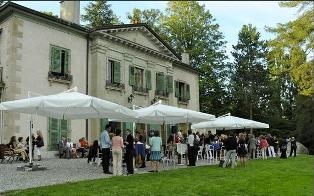 Conversation Exchange Programme Aperitif
Twice a year, the Programme invites all participants to "La Pastorale" for an informal aperitif. An opportunity to find new linguistic partners, reconnect with old acquaintances and make friends.
Founded by the Swiss Confederation and the Republic and Canton of Geneva, the International Geneva Welcome Centre is the single entry point for the support and integration of employees of International Geneva and their families, NGOs and visiting delegates.